Tanzanians and leaders from across Africa paid tribute to John Pombe Magufuli, Tanzania's late president whose sudden death was received with shock and disbelief.
Magufuli served as the fifth president and led Tanzania for 5 years after winning the 2015 election against his predecessor Jakaya Kikwete. Prior, he served as Minister of Works, Transport and Communications from 2000 to 2005 and 2010 to 2015 and was chairman of the Southern African Development Community from 2019 to 2020. He died on 17 March 2021 from heart complications at a hospital in Dar es Salaam, according to the current President Samia Suluhu Hassan, first female president of Tanzania.
A mixed legacy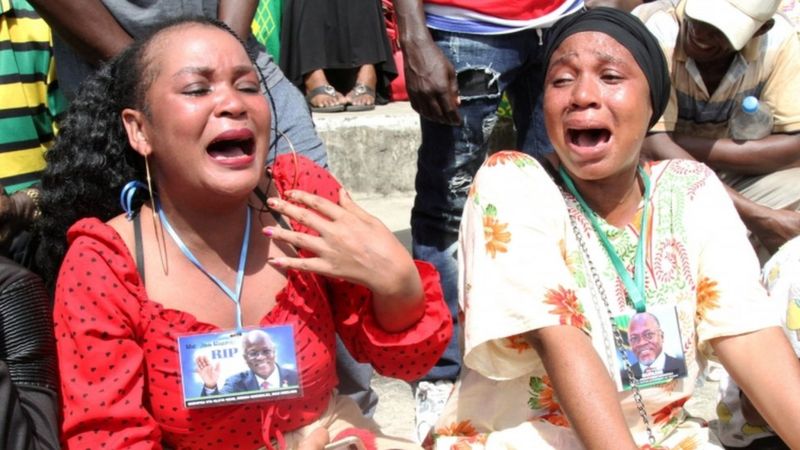 Following the announcement of Magufuli's death, Tanzania has been swept with grief and a somber mood.  And irrespective of the late president's mixed legacy, many Tanzanians, those who live in Tanzania and those who do not, friends of Tanzania and those who judge it, from near and far, mourned the late president with great sorrow. Tributes poured in from and around the world, on and off social media, in respect of a leader the people nicknamed "Uncle Magu" or "Jembe".
Thousands of mourners lined the streets waving goodbyes and singing songs of sadness as the body of the late president was transported from Dar es Salaam to various cities and towns before it was laid to rest in Chato, Magufuli's ancestral home. Televised scenes of some weeping and running alongside the motorcade carrying the coffin and convoyed by bajajs and boda bodas, while others collapsed at the mere sight of the coffin will be remembered. And regrettably, some mourners paid the price: Tanzanian police said that 45 died in stampede as mourners forced their way into closed stadium to view Magufuli's body on March 21.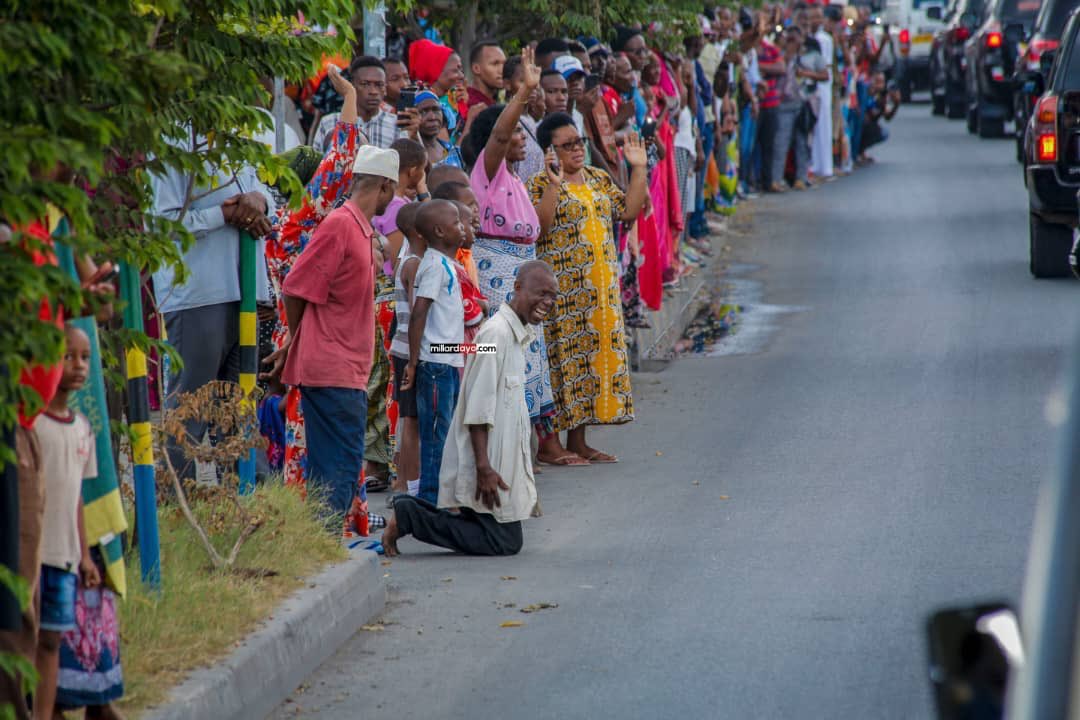 Much as the masses along with prominent Tanzanian singers—who instantaneously released songs in praise— mourned with profound sadness the loss of "their president" and a "true son of Africa", some others publicly voiced their disapproval of a man whose passion they said slowly became "Tanzania ya John Pombe Magufuli".
"The middle class of my type would say he was a dictator because he narrowed down their space for expression, but amongst the masses like the street vendors, for the first time were granted unfettered freedom to conduct their businesses in the city center. They think he was the president who listened to them, their right to pursue livelihood," Prof Sabatho Nyamsenda said, in an interview with Jason Patinkin. "Smallholder farmers remember him as the president who revoked title deeds of big landowners and distributed it among the famers. Smallholder miners would also remember him the same and all that. So, among the masses he is the most popular president in the neoliberal era."
It's interesting that Magufuli has, albeit reverence from the masses and significant development gains, left a politically divided Tanzania to some extent.
Following the announcement of Magufuli's death, longtime critic, lawyer, and activist Fatma Karume expressed her unwavering position on Twitter and described the Magufuli administration as a "horrendous" five years. "For some of us, we are going to remember him as somebody who took our constitution, ripped it apart, cared nothing about the rule of law or our democracy or personal freedoms," she told the Financial Times. "It was rule by fiat and Tanzania was his personal fiefdom."
Columnist and political analyst Elsie Eyakuze followed suit. Although she says she approves of the resource nationalism Magufuli advocated for, the increased access to social services and rampant fight against corruption and ineptitude in Tanzania's bloated civil service, she berated the deterioration of Magufuli's presidency and his conservative approach to women's rights and gender policies. In a letter titled "Dear John, I forgive you, Eyakuze wrote: "Nobody knew you quite like we did, John. We, your fellow Tanzanians. Your neighbors in northern Dar es Salaam; the families of the people jailed or disappeared under your watch; the businesses that were extorted; the paternal aunts you promised to beat because the cashew crop had to be done your way or no way at all; the women you insulted innumerable times with inappropriate comments; the girls who got thrown out of school for getting pregnant. We all saw you, John. You looked down upon us, which gave us a unique perspective as we looked upwards into your deceitfully handsome face."
Yet forgivingly, "You were a human, John, a Tanzanian, one of us. We never gave up hope," Eyakuze wrote. Now, she said, death has robbed all of us of your potential, the man and leader you might have become if prayers had been answered: "Even rocks erode. Water, being soft, can cut mountains down to size."
"Authoritarian" or "anti-imperialist leader"?
Yes, Magufuli's government has been accused of mismanaging COVID19 and unnecessarily trying "to show the world that there is no COVID in Tanzania." But it would be a grave mistake to reduce his legacy to how the West chooses to portray him.
Western media, who evidently did not care for a president who had a "stiff-neck" attitude and refused to be a comprador to imperialism, appear gloried in Magufuli's demise. In a similar yet old and corrupt style of Western reporting on Africa, these same media houses seem excited to blast glowing headlines of the irony: a "COVID denying 'African' leader dies of COVID19". But a word of advice to Western media from a Tanzanian writer and poet: "I have a question for you Western Media," Sandra Aikaruwa Mushi wrote. "With your world being so full of faults and ugliness, why do you look at the speck of sawdust in your brother's eye and pay no attention to the plank in your own eye?  I humbly ask that you use that energy you have on Africa on your planks."
But aside the West's portrayal and Tanzania government's relaxed approach to COVID19, Magufuli has also been accused by his critics of "steering his country away from 'democratic ideals'" —and is especially criticized for "the abduction and disappearances of activists and journalists, disregard for humanity, lack of humility in leadership, lack of respect for human rights, lack of accountability, disregard for rule of law and fear that paralyzed a nation."
While some and especially opposition groups called Magufuli an "authoritarian" playing hardball politics and criticized him for human rights violation, narrowing political space, and suppressing media and foreign funded civil society groups, others argue that this does not make him "an exception".
In contrast, for the masses "he was 'their' leader"—he captured their hearts, minds, lives, and consciousness. He was celebrated as an anti-imperialist leader, an ardent nationalist who declared sovereignty over natural resources, fought corruption firmly and effectively, and advocated for the effective use of natural resources.
"He was very flawed. But he stood for the people of Tanzania from the get-go," Mushi wrote. It seems, Magufuli in words and deeds worked for the empowerment of the powerless, for "the common mwananchi". "In fact, he used to say over and over again that he is the president of the poor, helpless and destitute."
Most notably, he is popular among those opposing neoliberal policies to the extent that popular imagination is becoming highly conscious of the pitfalls of the neoliberal reform strategy of making nations "'LIMP', that is liberalized, marketized and privatized".
It is remembered that in 2015, Magufuli inherited a system encroached by neo-liberal policies and a state afflicted by the vast inequalities of wealth and power caused by extreme neoliberalism and its predatory practices. "The neoliberal economic reforms undertaken by Tanzania since the late 1980s in the mining and other economic sectors have largely created an enclave economy in which a few wealthy individuals and multinational corporations benefit at the detriment of ­majority poor people in rural and urban areas," Japhace Poncian, a lecturer at Mkwawa University in Tanzania, told the Africa Report. "Magufuli is riding on the public backlash against this—as well as Tanzania's own socialist past under Julius Nyerere—to promote his vision."
On the onset, the road ahead to restore developmental progress­ and the lost legacy of reclaiming Tanzania's right to self-determination was a steep slope. Still, widely known as the "bulldozer" he power shoveled a path implementing radical policies and brought dramatic change in a short period of time—by waging war on corruption, redirecting funds toward meaningful projects, purging "ghost workers", using economic nationalism to remedy the damage done by neoliberalism.  In 2017 he declared "economic war" against mining giants like the UK mining company Acacia—and as promised, he won his "biggest battle" and "enacted one of the most radical and progressive mining policies in Africa, which proclaimed the countries permeant sovereignty over natural resources." The move recalls a popular saying by Nyerere: "They have the law behind them—but should a stone that is found in Tanzania only be monopolized by a foreign company? This is the property of the Children!"
Inspired by the legacy of Mwalimu Julius Nyerere
As Magufuli noted, as a young man he was inspired by the first president of Tanzania, Mwalimu Julius Nyerere. "He identified himself as a person who followed Nyrere's policies and trying to implement, put into practice his legacy." This is true considering that some of Magufuli's economic policies are thought to be similar—and some compare the time when Nyerere said "No to IMF meddling" in 1980 to when Magufuli  canceled a loan offered by the Chinese which was reportedly signed by his predecessor Jakaya Kikwete and said that "only a drunkard will accept the terms of agreement".
Having said that, Mwalimu Nyerere, still "the most popular name in Tanzania today", his ardent Pan-African spirit and move to bring back to the fore matters of the people-centered Pan-African movement indeed could not compare. He believed "African nationalism is meaningless, dangerous, anachronistic, if it is not, at the same time, pan-Africanism". On the contrary, it seems Magufuli was an ardent nationalist more than he was a Pan-Africanist.
"His nationalist was different; it is a new nationalism which was progressive in some sense and regressive in others. So, when it comes to economic policies, when comes to reaffirming the country's right to self-determination, when it comes to rejecting Western dictates and all that, it was very progressive. But then when it comes to probably dealing with neighboring countries and the question of Pan-Africanism, it was very inward looking and as such, it reversed some of the gains on the Pan-Africanist ideals that had been put in place under Nyerere's era," says Nyamsenda.
It is not clear, and perhaps too early to know how President John Pombe Magufuli's passing would impact Tanzania. His sudden death leaves a lot of questions unanswered and a legacy that could generate public debate on issues important to society of all social status. Inasmuch as furthering the legacy of liberation and forming a just and equitable system is significant—that is, for the sake of the children of the soil­—the present and future has much to ponder and interrogate the politics of the "post-colonial" state as well as collectively and consciously revive the thoughts and revolutionary movements of Pan-Africanism that set the stage for an anti-colonial political and cultural movement. And all of this, ought to be imagined with the idea that "without unity, there is no future for Africa" or Tanzania.
by: Amira Ali