Millions of people around the world voted in 2020, even if some elections slated for 2020 were postponed because of the COVID-19 pandemic.  In comparison, some predict that 2021 elections in Africa will not be as quiet as 2020.
Uganda
Seventy-six-year-old Yoweri Museveni, who has ruled Uganda for 34 years, is seeking another term as president. As Ugandan voters prepare to head to the polls in January 2021, Museveni has ratcheted up his crack down on political dissent and intensified his efforts to silence opposition candidates.  None of the moves – the surveillance of candidate's home and office; prohibition of "mass rallies, as a way of controlling the spread of Covid-19"; "unlawful" arrest of candidates; the atrocities that took place on 18th and 19th of November 2020;  recent death of Ssenteza Frank, one of Bobi Wine's personal bodyguards – has deterred Presidential hopeful Robert Kyagulanyi also known as Bobi Wine from his run for president.
Presuming the election will occur as scheduled, some analyst predict Museveni will win but with a bigger margin than projected.  It will come as no surprise if Museveni wins, as usual.
Somalia
Somalis expect to head to the polls to elect a new president on 8 February 2021.  In preparation for the  elections, Somalia has been brokering agreements and has also appointed Mohamed Hussein Roble as the country's prime minister, replacing former Prime Minister Hassan Ali Khaire "voted out of office by parliament for failing to pave the way for fully democratic elections due before February 2021." Although Somalia missed a deadline to hold its parliamentary elections on Dec. 1, it is currently organizing the presidential election "after the mid-September agreement between the federal government and regional states unblocked an impasse that threatened to delay the contests past the current government's constitutional term limit" and eliminating suspicion by some that incumbent President Mohamed Abdullahi Mohamed 'Farmaajo' was trying to subvert Somali nationhood to consolidate power.
Somalis, near and far, will closely watch the "foreign-backed" government in Mogadishu as it prepares to hold elections.
Ethiopia
The National Electoral Board of Ethiopia (NEBE) announced on December 25th that it will hold the 6th general election on 5 June 2021. The elections, which was scheduled to be held in August 2020 was postponed by the House of Peoples' Representatives because of the COVID-19 pandemic. Following the decision, the federal parliament voted to extend the terms of parliamentarians, including Prime Minister Abiy Ahmed's term due to expire in October. The decision to delay elections contributed to increased tensions between the government of Prime Minister Abiy Ahmed and the Tigrayan leaders of the Tigray People's Liberation Front ("TPLF") of the northern Tigray region. TPLF rejected the decision and held its own regional elections, intensifying the already tense relationship between the federal government and the region, and the succession of repulses culminated in the military operation launched on November 4. The 2021 election will take place amid outbreaks of unrest, violence, and criticisms over heightened government crackdowns on opposition political parties. Although PM Abiy has promised free, fair and democratic elections, political parties like the Oromo Federalist Congress (OFC) have said it would be "extremely hard to take part in the upcoming election, under the current circumstance."
Ethiopians will be watching the election to see if Prime Minister Abiy Ahmed, chairman of the Prosperity Party, retains his mandate to govern Africa's second-most populous country.
Libya
Libya will hold national Elections in 18 months – on 24 December 2021. The decision, which came during a UN-sponsored Libyan Political Dialogue Forum (LPDF) in Tunis, Tunisia, between representatives of the internationally Government of National Accord (GNA) and Benghazi-based warlord Khalifa Haftar-controlled Libyan National Army (LNA), was announced by the head of the UN mission Stephanie Williams. The participants at Tunis talks "agreed to establish a new Presidential Council and an executive body to manage the transition period and hold national elections."
Since the ouster of late ruler Muammar Gaddafi in 2011, Libya has been dominated by armed groups and divided between Tripoli's UN-recognized Government of National Accord (GNA), headed by Prime Minister Fayez al-Sarraj, and a rival administration in the east affiliated with military commander Khalifa Haftar, leader of the Libyan National Army (LNA), "with both sides riven by political, regional and ideological divisions among the armed factions that back them, and with foreign powers pouring in arms and mercenaries." The Tunis talks follow a "precarious" ceasefire deal in October that the GNA and Haftar's militia agreed to in Geneva.
While the agreement is welcomed, "Libyans remain skeptical that the peacemaking efforts will end nearly a decade of chaos and bloodshed following the 2011 NATO-backed uprising against Muammar Gaddafi."
The Gambia
The 2021 presidential election is scheduled to be held on December 4, according to The Gambia's Independent Electoral Commission (IEC).  The 2016 presidential election, which was disputed by former president Yahya Jammeh, elected President Adama Barrow backed by a coalition formed by seven political parties.  Barrow came to power as the head of an alliance of opposition parties formed to contest the 2016 election. He took office with a promise to serve only three years and resign, but, no surprise to some, he has reneged on the promise.  His plan to run for re-election has outraged Gambians and has been met with protest calling for Barrow to "keep his word".  After three years in office, Barrow's tenure has drawn mixed reviews and heated debates.
As of now, the list of registered 2021 presidential candidates is unknown, so we will have to wait and see who will challenge Barrow.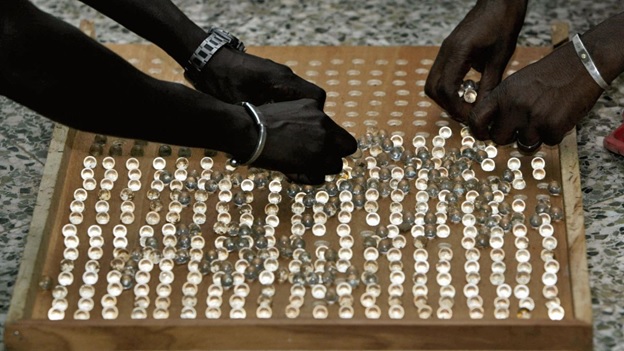 The Gambia is known for its unique voting system – instead of paper, Gambians cast a "iconic glass marble" in drums, painted different colors for different candidates. The traditional practice, which was introduced in the 1960's to ensure full participation regardless of one's ability to read or write, apparently, proves to work well for the Gambia.
By Amira Ali