Images were released showing the end of the forward section of the grounded bulker Wakashio. With the scuttling now completed efforts are focusing on the remaining stern section with the accommodations block and bridge as well as the ongoing cleanup efforts.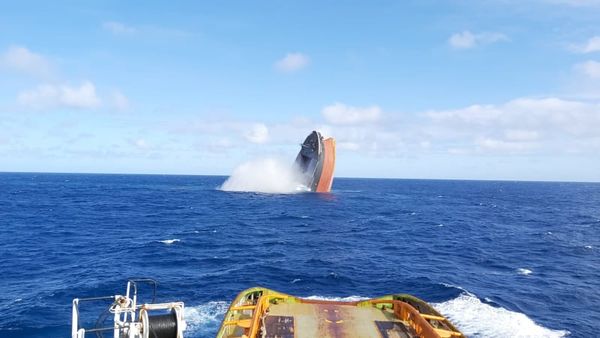 Images courtesy of Mobilisation Nationale Wakashio
According to a statement from the salvage team, the scuttling was competed on August 24, with the forward section plunging below the waves at around 3:30 p.m. local time. The forward section had been towed to the selected position late last week but the operation had been slowed both by rough seas and the efforts required to sink the ship. The salvage crew went aboard to cut holes through the Wakashio's bulkheads to hasten the demise of the vessel. The crew was also seen spraying water into the open holds of the ship.
The scuttling proceeded despite the ongoing protests from environmentalists and other groups. The government, however, said that this course of action was selected after discussions with the broad range of experts who have traveled to Mauritius to assist.
*The views of the above article are those of the author and do not necessarily reflect the views of Africa Speaks 4 Africa or its editorial team.