As the rapid spread of the coronavirus continues and governments impose lockdowns, schools and learning centers across the world have been forced to close their doors.
This has lead school systems, learning centers and vocational learning systems, to find novel and innovative ways to reach and teach the young population.  One of the primary ways that's being done is through virtual, or online, education.
In the wake of the Pandemic, the Ghana based Soronko Academy, "the first coding and human centered design academy in West Africa" quickly realized that an innovative approach to skills development was necessary "to continue to deliver value to its network and support young people, especially women and girls, to prepare them to excel in a digital world".
To adopt to the "new normal" the academy created "My Digital Skills", a one-stop skill assessment tool and a career guidance portal to help prepare young women (and young men) to be more aligned with the job market needs – help them plan their lifelong career journey. 
"When it comes to the digital and tech space there is a high demand for digital skills, but a lot of young people don't have the digital skills required by the market, or don't even know the skills the market requires," explains Regina Honu, a founding member of Soronko Academy. "Employment is a pathway out of poverty and key to leading a dignified life".  
In the time of coronavirus, those with access to a computer, or smartphone, and internet, anywhere in Africa, are encouraged to use the platform in this newfound downtime to learn digital skills, assess their skillset and connect with job opportunities.  Also, to address the world's recent plague, the platform will be running a coronavirus test to ensure that people are well informed.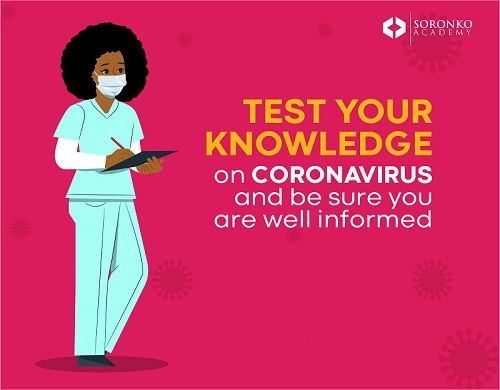 Soronko Academy, founded in 2017 to scale and sustain the impact of a project called "Tech Needs Girls", is part of Soronko Foundation, a not-for-profit organization. The academy is focused on addressing the mismatch between the skills required for today's job market and the skills of the job seeker, thus, it strives to contribute to solve youth unemployment and ensure citizens have the skills needed as the local economy refocuses on the technology industries.  And perhaps more importantly, the academy's key principle focus is on female empowerment and closing the gender gap in technology by providing tools that ensure that young people (women) have a viable career path and the opportunity to prosper. Accordingly, "it offers scholarships to women and girls and has several programs to support help women and girls reach their full potential".
"Tech Needs Girls is a mentorship program where we teach underprivileged girls from 6-18 years to code and create technology," Regina said. "To date we have trained over 10,000 women and girls in 8 regions in Ghana and expanded our impact to Burkina Faso".
Also, since inception, the academy has expanded its curriculum to work with boys and children with disabilities, and the adult population. It has "taught children with hearing impairment and children with autism how to code and create technology, and now, it is piloting its curriculum to introduce to all public schools in Ghana". 
"The vision is to ensure that Africa's most valuable resource, its young people, have the necessary skills innovation to prepare for a world of rapid change in technology."